Offer Manager is an add-on feature from ShowingTime that improves communication between agents during the offer process. The valuable resource delivers improved efficiency and communication, increases industry professionalism, provides flexibility, and helps all agents better serve their clients.
Submitting An Offer
Locate and click the Submit Offer icon on the MLS listing detail page to open the Offer Form.
Read the Offer Instructions from the listing agent.
Confirm your email, phone and text.
Attach all offer documents.
Add any comments for the listing agent.
Click the Submit Offer button, and you're done!
*The offer will then be delivered to the listing and/or co-listing agent. A notification will be sent once an offer has been opened.
Using the "Side-by-Side" Comparison Tool
Navigate to Offers and then My Listings.
Select the listing with multiple offers and click the Side-by-Side Comparison icon.
Choose the details to include in your comparison.
Export the results as a PDF or Excel file.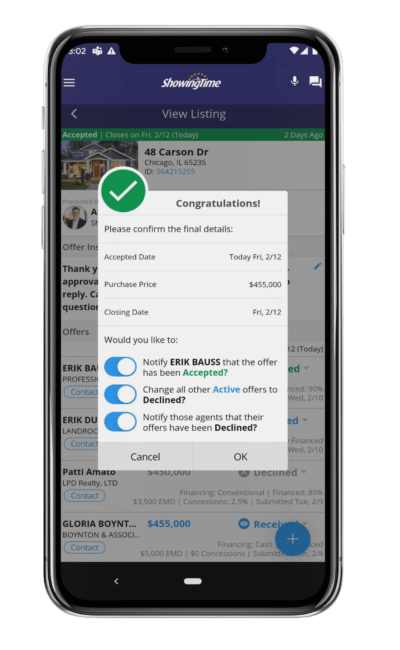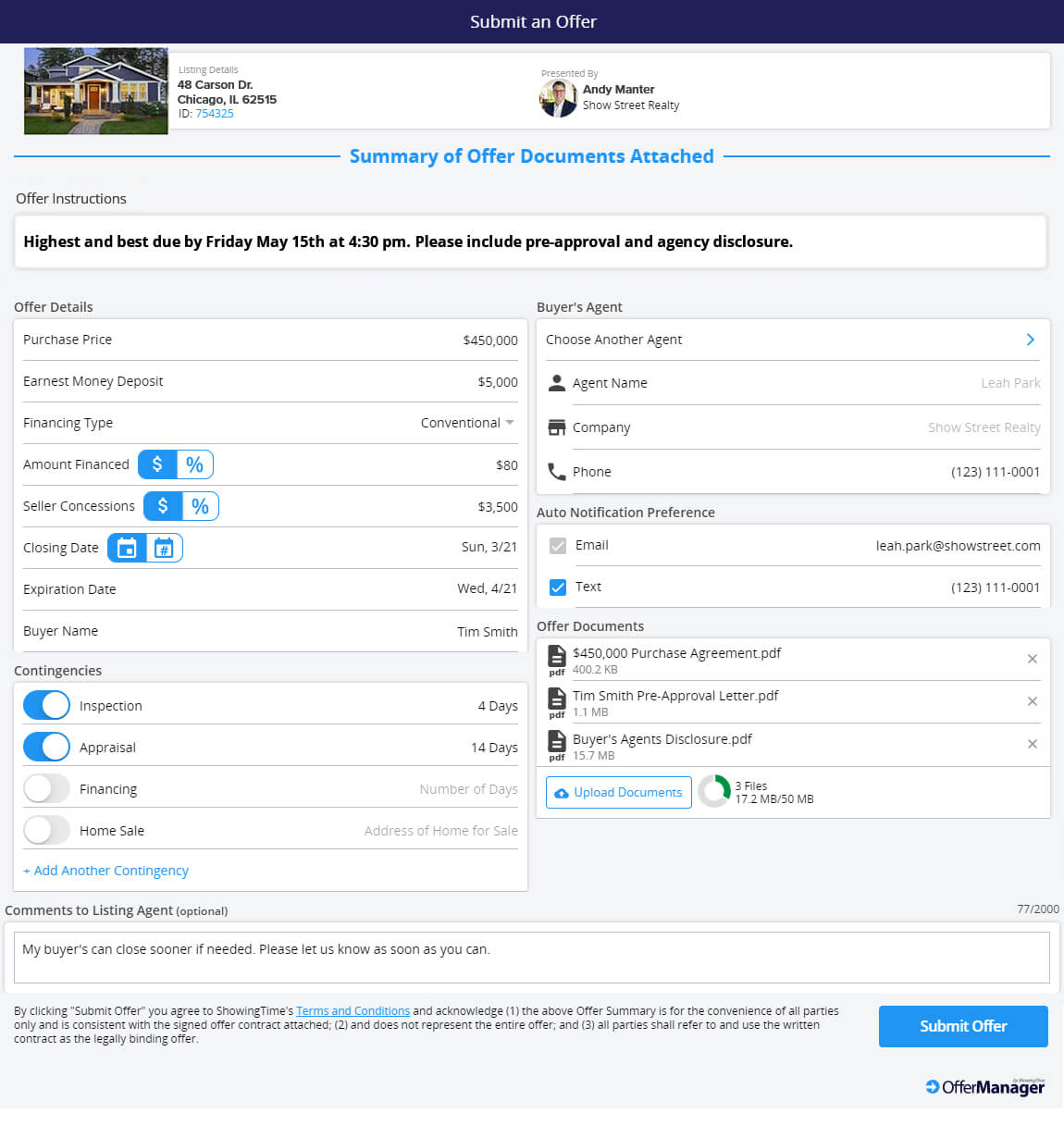 Helpful Tips
Verify your contact information is correct in ShowingTime.
Customize Offer Preferences under "My Profile". (Be sure that both Default Settings are set to "On".
Once an agent receives and/or views an offer, the buyer's agent will be notified.
Offers and associated documents will be delivered by email.
Conveniently tap on any listing to open the View Listing page.
Change the Offer Status on a listing to "Accepted" to automatically decline all other offers.
Benefits for Buyer's Agents
Submit Offers via the MLS – Click the green arrow on the MLS listing to submit your offer to the listing agent.
Offer Received Read-Receipt – You will automatically receive a date/time-stamped read-receipt once the listing agent has opened your offer.
View Submitted Offers in One Spot – Easily see the offers you've submitted and their current status in a single, searchable view.
Benefits for Listing Agents
All Offers in One Place – All offer documents, offer summary and buyer's agent contact information will be automatically organized by listing.
Customize How Offers Are Delivered – For teams and agents with assistants, you can customize who gets notified of the offers for each listing.
Easy Buyer's Agent Communication – You can text, call or email agents in one-touch or mass update all buyer's agents on a listing.
Compare Offer Details – Quickly send a professionally formatted Side-by-Side Offer Comparison Report to your seller from a desktop or mobile device.