Thursday, July 27th, 2023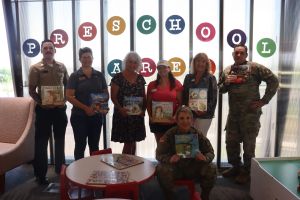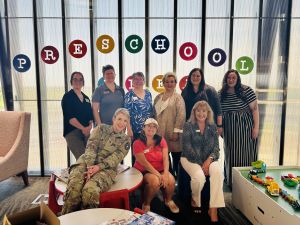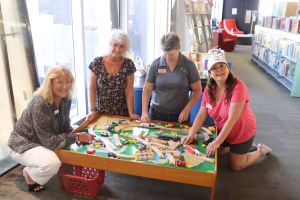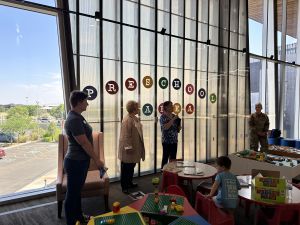 *pictured -  top left: PO1 Gonzalez, Shari Howard, Cheryl Stevenson, Amy Crawford, Elizabeth Kennedy, SFC Portela, SSG Ferguson. Top middle: April Siebersma, Lynette Christensen, Faye Humphrey, Suzanne Westrum, Katey Swann.
The sounds of play and laughter could be heard in the children's area of the Prescott Valley Public Library on Thursday morning as community partners gathered for the donation of a new Early Childhood Development Nook from the Prescott Area Association of REALTORS®.  
PAAR's 2023 Community Service & Outreach committee, under the guidance of Chairperson Shari Howard, collected furniture, toys, and accessories appropriate for children ages 3 – 8 years old, which they then refurbished and installed on the second floor of the library. Special guests Katey Swann (Member Services Manager) and April Siebersma (Projects Coordinator) from the Prescott Valley Chamber of Commerce were on hand as 2023 PAAR President M. Faye Humphrey presented Children's Librarian Lynette Christensen with a commemorative plaque.   
Representatives from local branches of the United States military were on hand to contribute boxes of books for the new activity center, including SFC Portela (US Army) and PO1 Gonzalez (US Navy). Additional book donations were also provided by TSgt. Ezzell (USAF) and Papa's Kids Schoolhouse Foundation, who were unable to attend in person. Papa's Schoolhouse Foundation also delivered 300 backpacks filled with school supplies that PAAR and the Army will distribute for free to any school-aged child in the Quad Cities in need. Backpacks can be picked up from the PAAR office, located at 3719 Karicio Lane in Prescott, or the US Army Recruiting Station, located in Unit H of the Prescott Valley Entertainment District, beginning next week. 
Next up for PAAR is the annual "Coats for Kids" drive, which collects assorted winter clothing for anyone in need within the Quad Cities. For more details, or to find out how you can help your neighbors, contact the PAAR Office at 928-445-2663 or email communications@paar.org.  
PAAR would also like to thank the following individuals who were in attendance:
2023 PAAR First Vice President Liz Kennedy

PAAR CEO Suzanne Westrum

Community Service & Outreach

committee members Amy Crawford

 (

RealtyONE

 Group Mtn Desert)

, Eddie Rea (

PrimeLending

)

, and

Cheryl Stevenson (Fairway Independent Mortgage)

.